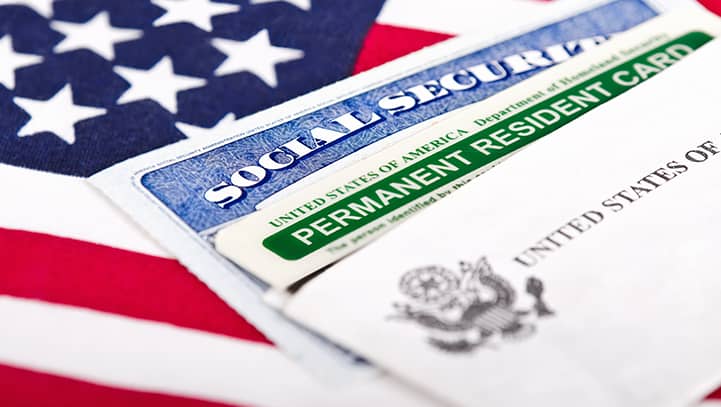 GREEN CARD SERVICES
A green card, also known as a permanent resident card, is an ID card that reflects your permanent resident status in the United States. This status allows you to live and work freely in the US. In most cases a green card is valid for 10 years and is generally renewable indefinitely.
There are several avenues in which a person may receive a green card. The Law Office of Malathi Benjamin has successfully petitioned for Green Cards in all of these categories. Schedule a consultation today to see if you may be eligible for a green card.
Family Based Green Cards
The most common way of obtaining a family based green card is through a family member. A person You can sponsor or petition for a family member(s) if:
You are a US citizen petitioning for a spouse or children, of any age.
You are a US citizen petitioning for a parent and are over 21 years old.
You are a US citizen petitioning for a sibling and over 21 years old.
You may also be eligible for a green card if:
You are a recent widow or widower of a US citizen.
You are a stepchild of a US citizen.
Green Card holders can also petition for a spouse and unmarried children of any age, but cannot petition for a parent or a sibling. . If you or your a family members falls into one or more of the above categories, contact us today to schedule a Green Card consultation.
Employment Based Green Cards
Another very common way in which you can successfully obtain a green card is through you your work. We have over a 95% success rate in petitioning for various employment based Green Cards. Contact us to find out more about the different employment based categories and whether you qualify.
Religious Worker Green Cards
Ministers, religious professionals and those with a religious vocation can petition benefit from for religious worker green cards. Pastors, priests, missionaries, deacons, nuns, and monks, are some examples of religious workers. Liturgical workers, religious instructors, catechists, workers in religious hospitals, religious translators, and religious broadcasters are also included in this category.
An R-1 applicant for a religious worker green card must prove that the has been in full time, paid, religious work employment for the two years immediately before the filing of the petition. There are other requirements to be met as well, including proving that he or she has been a member of the same denomination as the petitioning employer for two years immediately before the filing of the petition. The petitioner must be a tax-exempt nonprofit religious organization that can afford to pay the religious worker a living wage and the work must be religious work.
We have successfully obtained religious worker green cardsfor religious workers of a variety of denominations.
Marriage Based Green Cards
Marriage based green cards are available for the foreign spouse of a U.S. Citizen or Permanent Resident. If you are a U.S. Citizen your spouse falls into the Immediate relative category and there is no wait except for the processing time. If you are a Permanent Resident, your spouse will fall into the Preference Category and the wait can be fairly lengthy depending on his/her place of birth. If you and your spouse are both in the United States, both overseas, or one of you is overseas, you can petition for a Green Card.
Fiancée Visa
The Fiancée visa is available to the fiancée of a U.S. Citizen. Once your fiancé(e) enters with a fiancé(e) visa you must marry each other within 90 days and then file for a green card. Your fiancé(e) cannot marry anyone else or extend that 90 day period. Most people believe a green card is guaranteed if you are married to a US citizen. While marriage often has a high chance of success, there are several steps that need to be followed and adhered to. We can walk you through the process step by step to ensure a successful outcome.
Investment Based Green Cards
A special green card category exists specifically for foreign business persons and investors. You can apply for the EB-5 Green Card category whether you are here in the United States or currently abroad.
The Investment Based green card requires a petitioner to invest from $500,000 to $1,000,000 (or $500,000 if the business is in an area of higher than average unemployment). The green card is granted initially for a 2 year period only and can be made permanent through another application before the end of that 2 year period. Your spouse and child under 21 will also be eligible for a green card. The advantages and options available to a potential EB-5 green card applicant varies greatly based on the amount invested as well as the prospective industry. The Law Office of Malathi Benjamin can walk you through your options.
Why Choose Us?
We produce results. For over 15 years, The Law Office of Malathi Benjamin has been successfully petitioning for green cards in every category for clients throughout the Greater Los Angeles Area and beyond. We operate with honesty and integrity, clearly explain all the options available to you, and detail your chances of success. Contact us today to schedule a Green Card consultation.