Immigration Related Coronavirus Updates
Pasadena's Top Immigration Law Firm
Over 32 Years of Experience
Biden administration rolls back the Trump administration changes to the Public Charge rule.
TPS Extended for 6 countries through January 4, 2021.
The USCIS announced today that it will extend TPS for nationals of El Salvador, Haiti, Honduras, Nepal, Nicaragua, and Sudan, provided that the affected beneficiaries remain individually eligible for TPS. Work authorization too will be extended.
The Top Immigration Firm In Pasadena 10 Straight Years
It's because we care about our clients
Schedule an appointment to speak with An attorney
We help clients immigrate to the United States of America
If you have questions or concerns, the Law Office of Malathi Benjamin can help. An immigrant herself, Attorney Benjamin has successfully navigated the confusing waters of immigration policy. Clients of ours don't just get superficial advice, they get options that help inform their immigration plan of action.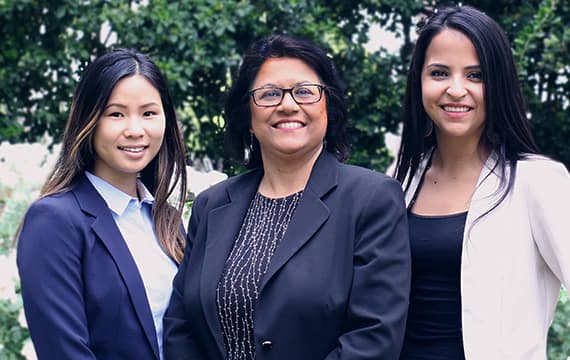 The Law Office of Malathi Benjamin is located in Pasadena, CA. Due to the federal nature of immigration laws Malathi Benjamin also represent clients throughout the United States and abroad. An immigrant herself, Lead Attorney Malathi Benjamin provides personal and hands on service to her clients. She understands the trials and emotions involved in the immigration process and treats each client with respect and compassion.
Malathi's personal care and attention to detail is what you will appreciate most in her practice. She is very thorough with each case, and is very honest. I would recommend the Law Office of Malathi Benjamin for all your Immigration needs.
Cynthia T.
Client
Malathi and her team are not only experts in what they do - they are also incredibly resourceful and didactic. She understands how delicate an immigration process can be and she guides you every step of the way, always keeping you informed. She also understands that not every client knows about immigration laws in the US; that is why she takes some time to carefully explain to you on how things work.
Jose R.
Client
I am very grateful for the work Malathi does, she's great at it and she's very caring, and patient may I add 🙂 She's kept me updated in how things were going in my case, I'd definitively recommend her to anyone, she truly cares for the people she's helping, I am confident that anyone that she helps will be satisfied with her work!
Matt M.
Client
Her knowledge and expertize in the field of Law are outstanding!! I am absolutely grateful to her hard work, and commitment to better other people's lives by addressing the right issues and prioritizing their needs based on their status. A 5 STAR service NO DOUBT ABOUT IT!!!!
Juliana R.
Client
It's a scary time
So call us today!
"We are living in a time where immigration policy is fragile. A time where the white house attacks those that have served and built this country from the ground up. At the law office of Malathi Benjamin, we want to reassure and assist you. So please do not hesitate to contact us or schedule a consultation.